Main
Filed in
Gossip
,
Ideas
,
Research News
Subscribe
to Decision Science News by Email (one email per week, easy unsubscribe)
COMPELLING WRITING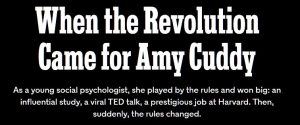 The New York Times just came out with an article called "When the Revolution Came for Amy Cuddy" which is about the science behind an extremely popular TED Talk, and is also about the replication crisis more generally.
As Decision Science News readers, we are confident you will find much to agree within it and much to disagree within it.
You may know many of the people interviewed.
You will probably be talking about it at the upcoming Society for Judgment and Decision-Making conference.
It is compelling writing. Compelling as all get out. We could not put it down.
ADDENDUM
Andrew Gelman has written a reply
There is a lot of debate going on about this article over on this facebook group.