Main
Filed in
Encyclopedia
,
Ideas
,
SJDM
Subscribe
to Decision Science News by Email (one email per week, easy unsubscribe)
SJDM LAUNCHES THE NEW IT'S YOUR CHOICE BLOG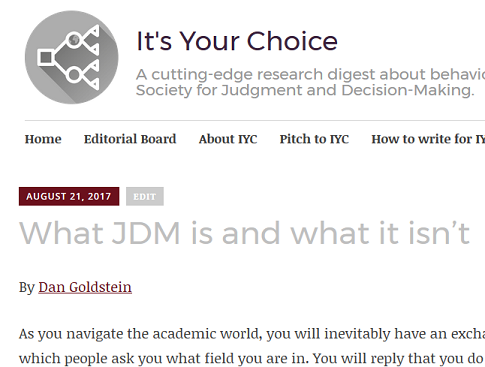 The Society for Judgment and Decision Making (JDM Society) has gone a long time without a web log. They have a journal, a newsletter, and a fine conference, but until recently no blog to call their own.
That changes now with the launch of It's Your Choice, edited by Laura Scherer and Gaëlle Vallée-Tourangeau. The tagline is "a cutting edge research digest about behavioral decision science from the Society for Judgment and Decision Making".
The kick-off post is here. In it, Laura and Gaëlle say that will mainly be publishing 800-1000 word research briefs contributed submitted by authors like you (Decision Science News Readers), in addition to these other kinds of posts:
methodology posts discussing important issues relevant to conducting of JDM research or introducing new methodological procedures for studying JDM.
explainers which aim to provide the background knowledge necessary to understand current topical JDM research
opinion columns where authors are free to express their views on hot topics relevant to JDM
reflective commentaries describing a practical "real-world" JDM issues
The post kick-off post post is by Dan Goldstein, former SJDM President, on what JDM is and what it isn't.
Submit your own content to It's Your Choice.