Main
Filed in
Articles
,
Gossip
,
Ideas
,
Research News
,
SJDM
Subscribe
to Decision Science News by Email (one email per week, easy unsubscribe)
JDM IS TOO LEGIT TO CEASE IN ITS LEGITIMACY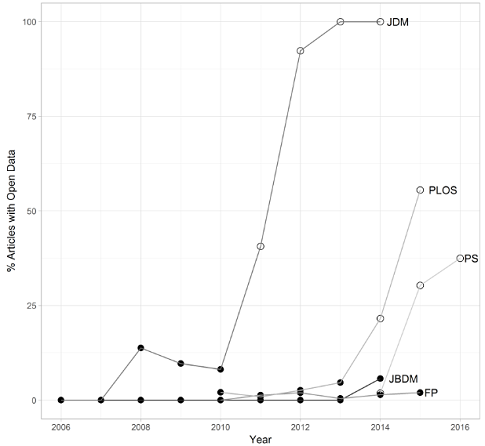 We came across this article that looks at the relationship between sharing data and other variables of interest.
We were especially interested in its Figure 1 which shows the percentage articles having open data. The journals listed are:
JDM – Judgment and Decision Making
PLOS – Public Library of Science
PS – Psychological Science
JBDM – Journal of Behavioral Decision Making
FP – Frontiers in Psychology
Closed circle – No open data policy that year
Open cirle – Open data policy that year
We were delighted to see JDM leading the pack on this important issue. This is due to the tireless efforts of Jon Baron, who almost single handedly produces the journal. From making editorial decisions to typsetting the articles, Jon does it all without a publisher and almost entirely without a budget. It's an amazing thing, the likes of which we've never seen. It's a testament to what one person can achieve. We are glad to see it getting some recognition here.
REFERENCE
Nuijten, M. B., Borghuis, J., Veldkamp, C. L. S., Alvarez, L. D., van Assen, M. A. L. M., & Wicherts, J. M. (2017, July 13). Journal Data Sharing Policies and Statistical Reporting Inconsistencies in Psychology. Retrieved from psyarxiv.com/sgbta
h/t Michael Schulte