Main
Filed in
Articles
,
Encyclopedia
,
R
Subscribe
to Decision Science News by Email (one email per week, easy unsubscribe)
MINDLESS SIGNIFICANCE TESTING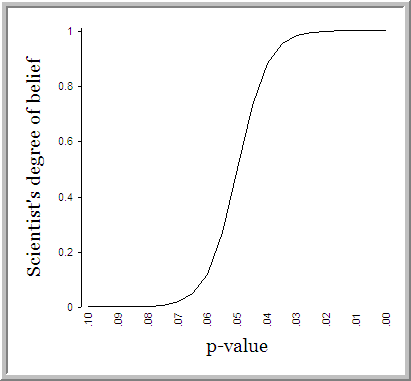 Some well-made points grow old while no one pays attention to them. One of the most embarrassing for social science is its categorical perception of p-values.
Tender of kindred Web site Andrew Gelman and Hal Stern have an article whose name says it all: The Difference Between "Significant" and "Not Significant" is not Itself Statistically Significant.
OTHER RECOMMENDED READING
Here's a nice Science News article by Bruce Bower on the issue.
Cohen, J. (1994). The earth is round (p < .05). American Psychologist, 49, 997-1003.
Gigerenzer, G. (1993). The superego, the ego, and the id in statistical reasoning. In G. Keren & C. Lewis (Eds.), A handbook for data analysis in the behavioral sciences: Methodological issues (pp. 311-339). Hillsdale, NJ: Lawrence Erlbaum Associates.

Gigerenzer, G. (2004). Mindless statistics. The Journal of Socio-Economics, 33, 587–606.
Krantz, D. H. (1999), The null hypothesis testing controversy in psychology, Journal of the American Statistical Association, 94, 1372-1381.
Rozeboom, W. W. (1960).The fallacy of the null hypothesis significance test. Psychological Bulletin, 57, 416-428.
Image credit: I made it in R