Main
Filed in
Conferences
,
Gossip
,
Ideas
Subscribe
to Decision Science News by Email (one email per week, easy unsubscribe)
DECISION MAKING OR SOCIAL PSYCHOLOGY?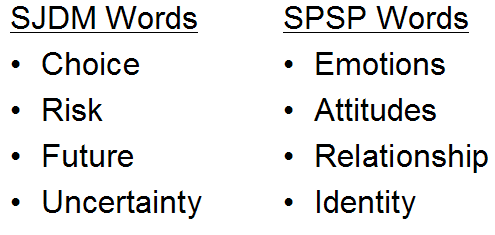 There are those who consider the field of Judgment and Decision Making to be much like the field of Social Psychology, and others who find them as similar as vodka and water.
How can we, as the French say, préciser la différence?
Decision Science News has taken it upon itself to brew up a little textual analysis with the most recent conference programs of the Society for Judgment and Decision Making (SJDM) and the Society for Personality and Social Psychology (SPSP).
DSN counted how many times each word appeared in each program, then made a list of words that occurred in both programs, then deleted words that occurred three times or fewer in either program, then calculated for each word its rate per 10,000 words in each program, then looked at the words that had the greatest difference in the frequency of occurrence between programs, and then struck the uninteresting ones. Here are the results:
Words that are much more common in decision-making than in social psychology
(Rate per 10,000 words)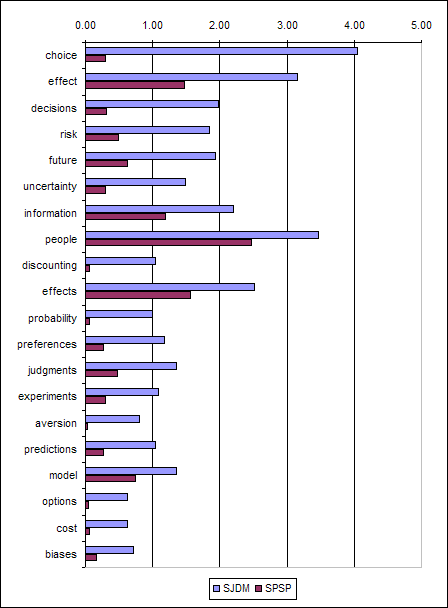 Words that are much more common in social psychology than in decision-making
(Rate per 10,000 words)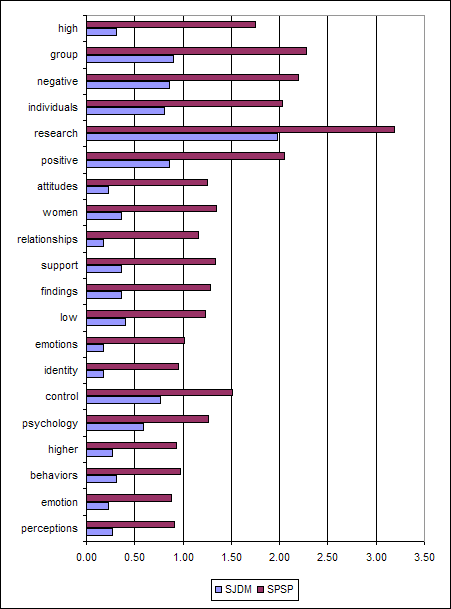 One can see not only differences in topic areas, but methodological differences as well (for example, social psych's love of 2×2 ANOVA designs and median splits causes the words "high" and "low" to make it onto the list; perhaps this also explains why "positive" and "negative" appear).
Which field would you rather be in?