Main
Filed in
Programs
,
Research News
Subscribe
to Decision Science News by Email (one email per week, easy unsubscribe)
DEADLINE MARCH 29, 2019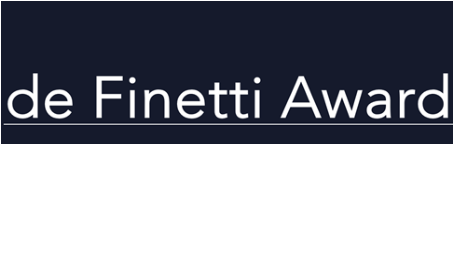 The European Association for Decision Making's de Finetti Award has, since 1995, recognized outstanding work by PhD student researchers in the area of decision making.
The winner will receive a prize of 750 Euros, a certificate, and be asked to make a presentation at SPUDM 2019 in Amsterdam http://www.spudm2019.com
Please see the website https://www.spudm2019.com/de-fenetti-award for information on eligibility and how to submit.
USEFUL INFORMATION
​
– Only PhD students who did not have their PhD at the time of the last SPUDM conference (August 2017) are eligible.
-The PhD student should be the sole or first author and the work should be mainly that of the student. If co-authored, the paper is accompanied by a signed statement (PDF) from the co-author(s) to the effect that the student is credited as the primary source of ideas and the main author of this paper;
-The paper can be either published or unpublished at the moment of submission for the de Finetti competition. There is no longer a requirement that the paper be unpublished.
– Submissions in dissertation format will not be considered, but articles based on a dissertation are encouraged.
– Only one paper may be submitted per applicant;
– There will be blind review. Applicants are asked for two versions of the submitted paper: an anonymous and a non-anonymous version.
– The anonymous version should be formatted as a manuscript (i.e., not a published journal article) with figures and tables integrated into the text. Please remove with names, affiliations, and author notes removed for blind review.
– The non-anonymous version should contain names, affiliations, and author notes and can be formatted however the author chooses.
The papers will be evaluated by a committee appointed by the Board of EADM consisting of Tim Pleskac (chair), Johann Majer (previous award winner), Ellen Peters, Tim Rakow, Tomás Lejarraga, Ilana Ritov.
To be considered for this award, papers and statements should be submitted before Friday, March 29, 5:00 PM Central U.S. Daylight Time. Please submit the papers at this link: https://kusurvey.ca1.qualtrics.com/jfe/form/SV_eanKRMTwn9EdECF
Winners will be notified by early June 2019.
Please contact Tim Pleskac (pleskac at ku.edu) with any questions.