Main
Filed in
Encyclopedia
,
Research News
Subscribe
to Decision Science News by Email (one email per week, easy unsubscribe)
JDM IS TOO LEGIT TO CEASE IN ITS REPLICABILITY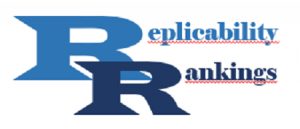 The R-Index blog was created by Ulrich Schimmack and aims to increase the replicability of published results in psychological science. Recently, the blog created rankings of 104 psychology journals in terms of replicability and published preliminary results. More detail can be found here.
We were pleased to see that the journal Judgment and Decision Making landed in the top 10 of these 104 journals where replicability is concerned.
Jon Baron does a great job with the journal. In other news, we previously reported that Judgment and Decision Making also leads in open data.