Main
Filed in
Conferences
Subscribe
to Decision Science News by Email (one email per week, easy unsubscribe)
CALL FOR PAPERS. DEADLINE MARCH 3, 2019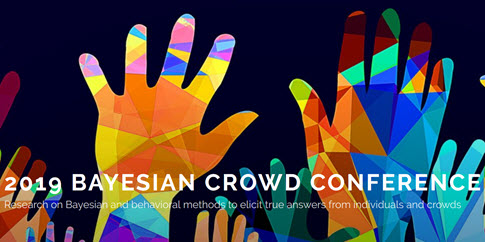 On June 24-25, 2019, Erasmus University Rotterdam will host the 14th Annual Tinbergen Institute Conference in Rotterdam, The Netherlands. The theme of this year is "Bayesian Crowd".
Topics
This conference is unique in that it brings together people from different backgrounds (economics, psychology, computer sciences, decision analysis) who work on truth-telling or wisdom of crowds, broadly speaking. It offers two days to mingle and present the latest breakthroughs on Bayesian and behavioral methods to elicit true answers from individuals and crowds:
scoring and incentives
Bayesian truth-serum and related mechanisms
behavioral approaches to promote truth-telling
crowds
individuals
wisdom of crowds and judgment aggregation
prediction markets
identifying experts
Keynote Speakers
David Budescu, Fordham University
Anna Dreber Almenberg, Stockholm School of Economics
Boi Faltings, École polytechnique fédérale de Lausanne
Abstract Submission Deadline: March 3, 2019 (Sunday) midnight.
The organizing committee will select papers for presentation at the conference based on abstracts.
All abstracts should be submitted online at http://bayesiancrowd.com/abstract-submission.
We encourage early submissions, and decisions about the abstracts will be communicated on a rolling basis to the authors, and latest by March 17, 2019.
Travel awards will be available for PhD students and junior faculty, covering flights and accommodation. Applications to travel awards should be made with the abstract submission.
More details about the conference, registration, travel awards and accommodations can be found at:
http://bayesiancrowd.com/
If you have any additional questions, please do not hesitate to contact us by email: Christina Månsson, Tinbergen Institute, tinbergen at tinbergen.nl
Organizing Committee
Aurelien Baillon, Erasmus University Rotterdam
Drazen Prelec, MIT
Dennie van Dolder, VU Amsterdam
Tong Wang, Erasmus University Rotterdam