Main
Filed in
Encyclopedia
,
Ideas
,
Programs
,
Research News
,
Tools
Subscribe
to Decision Science News by Email (one email per week, easy unsubscribe)
A JAVASCRIPT LIBRARY FOR ADDING DISTRIBUTION BUILDERS TO YOUR EXPERIMENTS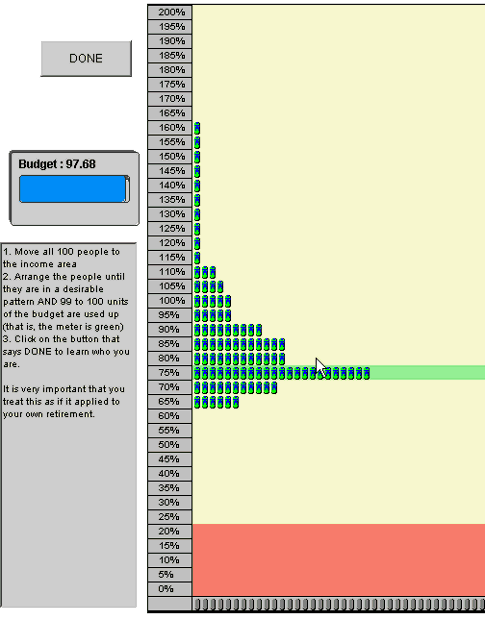 The drag-and-drop style Distribution Builder of Goldstein Johnson and Sharpe (2008).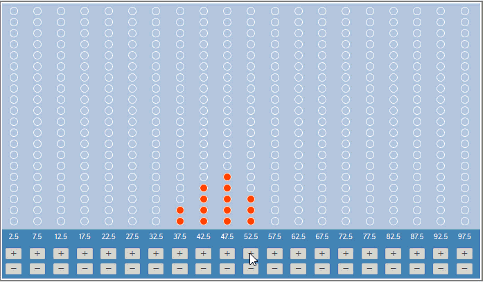 A balls-and-buckets style Distribution Builder using Quentin André's Javascript tool.
If you read this website, you probably want to elicit probability distributions from people. A Distribution Builder (DB for short) does just that, and elicits them as cognitively-friendly frequency histograms.
The Distribution Builder was created by Dan Goldstein, Bill Sharpe and Phil Blythe in the year 2000 and its first major publication was in 2008. The DB is a digital implementation of a method that was first used, as far as we can tell, by Kabus using poker chips in 1976, as cited in this paper by Goldstein and Rothschild (2014), which found that elicitation using a distribution builder beat conventional methods.
Now for the news. Quentin André has built a JavaScript distribution builder that anyone can use and adapt. It creates ball-and-bucket style distribution builders, and has a nice Web site full of documentation.