Main
Filed in
Encyclopedia
,
Ideas
,
Programs
,
R
,
Tools
Subscribe
to Decision Science News by Email (one email per week, easy unsubscribe)
FAST AND FRUGAL TREES R PACKAGE CREATES QUICK, ACCURATE DECISION TREES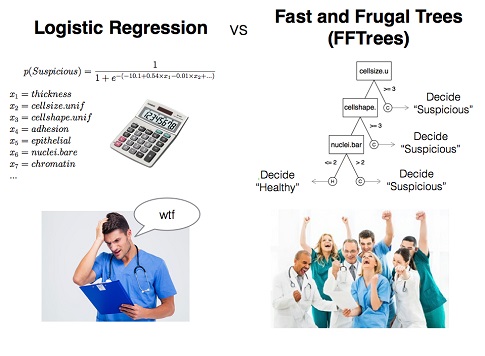 Fast and frugal trees allow you to make rapid decisions based on a few pieces of information. You can easily carry them out in your head. Surprisingly, the accuracy of these decisions rivals those made by gold-standard methods like logistic regression, especially when predicting out of sample.
Intrigued? Check out this post by Nathaniel Phillips and the new R Package he's created to create, visualize and test fast and frual trees. For all you judgment and decision making researchers out there, Phillips will also be presenting the R package at the annual meeting of the Society for Judgment and Decision Making (SJDM) in Boston in November 2016. If you know R, you could be building fast and frugal trees today!