Main
Filed in
Encyclopedia
,
Ideas
,
R
,
Research News
Subscribe
to Decision Science News by Email (one email per week, easy unsubscribe)
WE THOUGHT IT WAS NUMBER ONE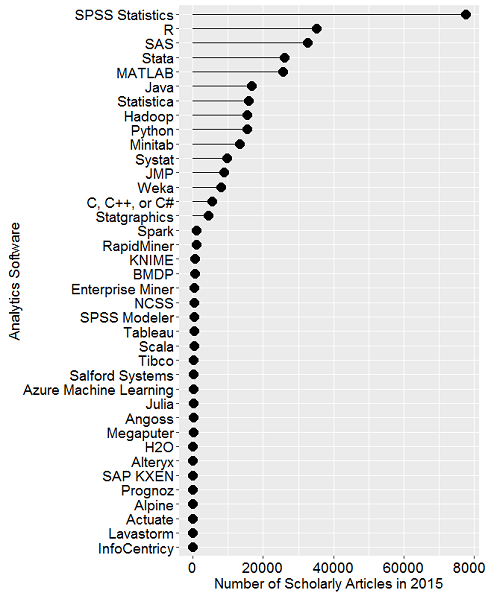 Robert Meunchen has done a rather in depth analysis of the popularity of various packages for statistical computation. More detail here.
We were surprised to see that R has passed SAS for scholarly use. We were surprised because we assumed this would have happened years ago. Meunchen too predicted it would have happened in 2014.
In addition, we were surprised to see that SPSS holds the number one spot, and by a fair margin. We can only think of one person who uses SPSS.
Perhaps we're guilty of false consensus reasoning.
A chart further down the post shows that Python is rapidly growing in use. That meshes with what we observe. Many of our PhD student interns come in using Python for data analysis. One who I worked with, Chris Riederer, is even writing a version of dplyr in Python and calling it dplython, of course.