Main
Filed in
Books
,
Ideas
,
Research News
Subscribe
to Decision Science News by Email (one email per week, easy unsubscribe)
NUMBERS AND NERVES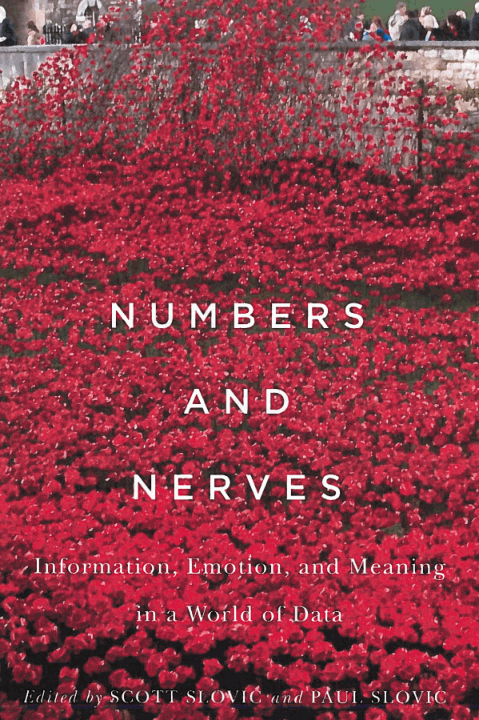 Check out this announcement of a new book by Paul Slovic and son: Numbers and Nerves: Information, Emotion, and Meaning in a World of Data
We live in the age of Big Data, awash in a sea of ever-expanding information—a constant deluge of facts, statistics, models, and projections. The human mind is quickly desensitized by information presented in the form of numbers, and yet many important social and environmental phenomena, ranging from genocide to global climate change, require quantitative description. The essays and interviews in Numbers and Nerves explore the quandary of our cognitive responses to quantitative information, while also offering compelling strategies for overcoming insensitivity to the meaning of such information. With contributions by journalists, literary critics, psychologists, naturalists, activists, and others, this book represents a unique convergence of psychological research, discourse analysis, and visual and narrative communication. Cognitive science has increasingly come to understand that we, as a species, think best when we allow numbers and nerves, abstract information and experiential discourse, to work together. This book provides a roadmap to guide that collaboration. It will be invaluable to scholars, educators, profes- sional communicators, and anyone who struggles to grasp the meaning behind the numbers.
CONTENTS
Foreword: Headbone and Hormone: Adventures in the Arithmetic of Life by Robert Michael Pyle
Introduction: The Psychophysics of Brightness and the Value of a Life by Scott Sovic & Paul Slovic
The More Who Die, the Less We Care: Psychic Numbing and Geocide by Paul Slovic & Daniel Västfjäll
Psuedoinefficacy and the Arithmetic of Compassion by Daniel Västfjäll, Paul Slovic, & Marcus Mayorga
The Prominence Effect: Confronting the Collapse of Humanitarian Values in Foreign Policy Decisions by Paul Slovic
The Age of Numbing by Robert Jay Lifton & Greg Mitchell
Epidemic Disease as Structural Violence: An Excerpt from Never Again? Reflections on Human Values and Human Rights by Paul Farmer
The Power of One by Nicholas D. Kristof
From One to Too Many by Kenneth Helphand
The Wreck of Time by Annie Dillard
Science, Eloquence, and the Asymmetry of Trust: What's at Stake in Climate Change Fiction by Scott Slovic
Healing Rwanda by Terry Tempest Williams
When Words Fail: Climate Change Activists Have Chosen a Magic Number by Bill McKibben
The Blood Root of Art by Rick Bass
Reacting to Information in a Personal, Moral Way: An Interview with Homero & Betty Aridjis
Countering the Anesthesia of Destruction: An Interview with Vandana Shiva
The Meaning of One Data Point: An Interview with Sandra Steingraber
Introspection, Social Transformation, and the Trans-Scalar Imaginary: An Interview with Chris Jordan