Main
Filed in
Conferences
Subscribe
to Decision Science News by Email (one email per week, easy unsubscribe)
FUR 2016 CALL FOR PAPERS. DEADLINE DECEMBER 15, 2015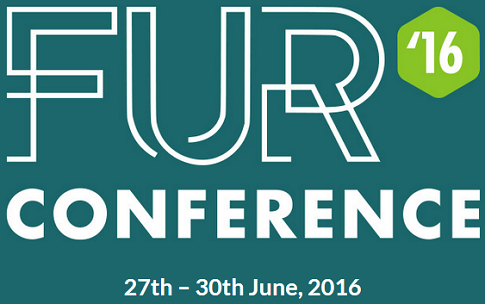 The Foundations of Utility and Risk Conference 2016 (FUR 2016) invites extended abstracts (of about 500 words excluding references) for presentations and posters on any interesting topic related to behavioral / decision science, experimental economics, social psychology, judgment and decision making, neuroscience as well as behavioral research using Big Data. Completed manuscripts are not required.
Location, Conference Dates & Programme: The FUR 2016 conference will be held in Coventry, UK, June 27-30, 2016. The conference will take place at Warwick Manufacturing Group of the University of Warwick. More information about the conference can be found at http://furconference.org
Apart from keynote addresses, we will organize a number of interactive plenary roundtables on important and stimulating topics such as "Ambiguity and Learning", "Behavioral Game Theory", "Imprecision and Noise", and "Neuroscience".
Preliminary list of keynote and plenary speakers can be accessed via the FUR 2016 website: http://furconference.org/speakers/
Submissions: Submissions will be open from October 15, 2015. The deadline for submissions is December 15, 2015, end of the day (23:59 UTC/London Time). All submissions for presentations, and posters should be made through the FUR conference website at http://furconference.org/. Questions can be addressed to the Conference Committee at fur2016@furconference.org. For more information on submissions, please, see http://furconference.org/submissions/.
Decisions: Decisions on all submissions will be communicated on or before February 1, 2016.
Registration: The conference registration deadline will be Friday, March 25, 2016, end of the day (23:59 London Time). Late registrations (after March 25, 2016) will have a higher fee. Therefore, you are encouraged to register early. Registration will open on October 26, 2015 via http://furconference.org. Further details on the registration fees as well as the information on local accommodation will be available on this website shortly.
Special Issue of "Theory and Decision": Traditionally, papers accepted to the FUR conference qualify for submission to the Special Issue of "Theory and Decision". Further information about how to submit to the Special Issue will be available through this website shortly.
Important dates:
October 15, 2015: Submissions open
October 26, 2015: Registrations open
December 15, 2015: Submissions close
February 1, 2016: Decisions communicated
March 25, 2016: Registration deadline
June 27-30, 2016: FUR 2016 Conference dates
Social Media
Like our page on Facebook: https://www.facebook.com/FURConference
Connect with us via Twitter: https://twitter.com/FUR2016 hashtags: #FUR2016 and #FURWarwick
Share your pictures via Instagram: https://instagram.com/fur_conference/