Main
Filed in
Ideas
,
Programs
,
Tools
Subscribe
to Decision Science News by Email (one email per week, easy unsubscribe)
NOW WITH GRAPHICAL HOTNESS!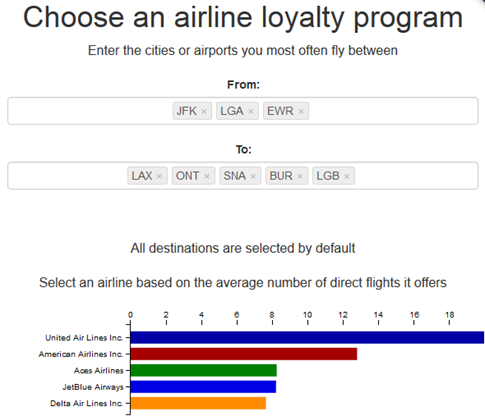 A few weeks ago, we posted a tool to help you choose a frequent flier program that is right for where you live.
But it had some limitations:
It was ugly.
It had no pretty color-coded graphs.
It didn't let you select multiple origin airports.
It didn't let you select destination airports, let alone multiple ones.
Well, Jake Hofman and I have fixed all that. We present the new "choose an airline loyalty program" tool for 2015. It has all the bullet-pointed goodness we advertise above. You can leave the destination field blank to see a count of all departures, or fill it in to limit things down to the places you go in the USA.
Try it. Switch your frequent flier program (if desired). Reap the benefits. Let us know how we can improve it. Or fork it "from the git hub" and do it yourself. This was made possible with R, dplyr and d3.