Main
Filed in
Ideas
,
Research News
Subscribe
to Decision Science News by Email (one email per week, easy unsubscribe)
A BIG DATA ANALYSIS WITH NEW YORK CITY CAB DATA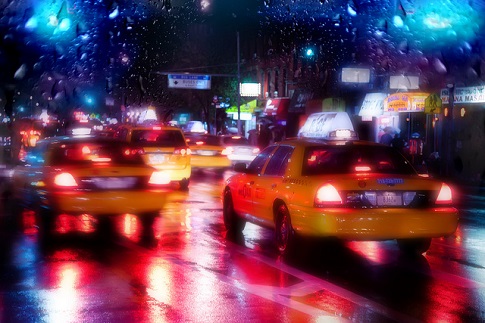 Students of judgment and decision making (aka behavioral economics) are familiar with the idea that cab drivers work until they hit an income target and then quit, ignoring opportunities to make more money on especially profitable days, such as when it rains. They probably get the idea from hearing people talk about the paper Labor Supply of New York City Cabdrivers: One Day at a Time. We say "hearing people talk about the paper" because that paper does not say that cab drivers make more money when it rains and is otherwise quite cautious (e.g., it concludes "because evidence of negative labor supply responses to transitory wage changes is so much at odds with conventional economic wisdom, these results should be treated with caution.")
A working paper and presentation by Princeton economist Henry Farber looked at recently released data on every cab ride taken in New York City from 2009-2013 (about 900 million trips, which he down-samples). Some of Farber's conclusions are:
Increase in demand and reduction in supply make it difficult to find a taxi in the rain.
But wage is no higher when it rains.
Lower supply is not the result of drivers stopping after having reached their target.
Lower supply is result of less pleasant driving in the rain.
ABSTRACT
In a seminal paper, Camerer, Babcock, Loewenstein, and Thaler (1997) find that the wage elasticity of daily hours of work New York City (NYC) taxi drivers is negative and conclude that their labor supply behavior is consistent with target earning (having reference dependent preferences). I replicate and extend the CBLT analysis using data from all trips taken in all taxi cabs in NYC for the five years from 2009-2013. The overall pattern in my data is clear: drivers tend to respond positively to unanticipated as well as anticipated increases in earnings opportunities. This is consistent with the neoclassical optimizing model of labor supply and does not support the reference dependent preferences model.

I explore heterogeneity across drivers in their labor supply elasticities and consider whether new drivers differ from more experienced drivers in their behavior. I find substantial heterogeneity across drivers in their elasticities, but the estimated elasticities are generally positive and only rarely substantially negative. I also find that new drivers with smaller elasticities are more likely to exit the industry while drivers who remain learn quickly to be better optimizers (have positive labor supply elasticities that grow with experience).
REFERENCE
Farber, Henry S. (2014). Why You Can't Find a Taxi in the Rain and Other Labor Supply Lessons from Cab Drivers. National Bureau of Economic Research Working Paper Series No. 20604 http://www.nber.org/papers/w20604
H/T Eric Jaffe http://www.citylab.com/weather/2014/10/why-new-yorkers-cant-find-a-taxi-when-it-rains/381652/
Photo credit: https://www.flickr.com/photos/chrisschoenbohm/6186211082/