Main
Filed in
Research News
Subscribe
to Decision Science News by Email (one email per week, easy unsubscribe)
DARN THAT IS INTERESTING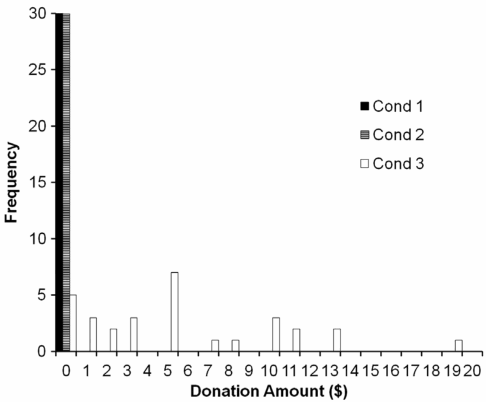 Rob Kurzban has an interesting write up of this article on the dictator game here.
ABSTRACT
Economic experiments are increasingly being used in a number of research areas and are a major source of data guiding the debate surrounding the nature of human prosociality. The degree to which experiment behavior accurately reflects external behavior, however, has long been debated. A number of recent studies have revealed just how remarkably sensitive participants are to cues of a lack of anonymity. Similarly, others have suggested that the very structure of the experimental context induces participants to choose prosocial options. In order to truly create anonymous conditions and to eliminate the effects of experimental contexts, participants must not be aware of their participation. Here, I present the results of a natural-field Dictator Game in which participants are presented with a believable endowment and provided an opportunity to divide the endowment with a stranger without knowing that they are taking part in an experiment. No participants gave any portion of the endowment to the stranger. Baseline frequencies of prosocial behaviors exhibited under experimental contexts might therefore be substantially inflated compared to those exhibited under natural contexts.
REFERENCE
Winking, J. and Mizer, N. (in press). Natural-field dictator game shows no altruistic giving. Evolution and Human Behavior.