Main
Filed in
Conferences
,
SJDM
,
SJDM-Conferences
Subscribe
to Decision Science News by Email (one email per week, easy unsubscribe)
1) 2013 CALL FOR ABSTRACTS: ANNUAL MEETING OF THE SOCIETY FOR JUDGMENT AND DECISION MAKING (SJDM)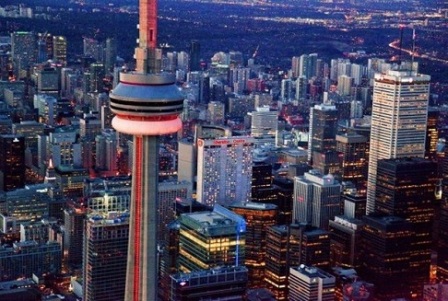 The Society for Judgment and Decision Making (SJDM) invites abstracts for oral presentations, posters, and symposia* on any interesting topic related to judgment and decision making. Completed manuscripts are not required. (*Please note that historically, symposium submissions have had substantially lower acceptance rates than individual paper submissions due to requirements for high integration and quality across all papers in the session. Authors who feel that a grouping of presentations is essential to communicating their research can submit a symposium with the knowledge that they are rarely accepted and that a subset of papers within the symposium might be accepted even if the whole symposium is rejected.)
LOCATION, DATES, AND PROGRAM
SJDM's annual conference will be held at the Sheraton Centre Hotel in Toronto, Ontario, Canada, during November 15-18, 2013. You may make reservations at $199 CAD per night (the Psychonomic convention rate). Early registration, a welcome reception, and a tribute to Duncan Luce will take place on the evening of Friday, November 15. The keynote address will be Sunday, November 17, with Susan Carey as the keynote speaker.
SUBMISSIONS
The deadline for submissions is June 17, 2013. Submissions for symposia, oral presentations, and posters should be made through the SJDM website at http://sql.sjdm.org/. Technical questions can be addressed to the webmaster, Jon Baron, at webmaster@sjdm.org. All other questions can be addressed to the program chair, Robyn LeBoeuf, at robyn.leboeuf at warrington.ufl.edu.
ELIGIBILITY
At least one author of each presentation must be a member of SJDM. Joining at the time of submission will satisfy this requirement. You may join SJDM at http://www.sjdm.org/jdm-member.html. An individual may give only one talk and present only one poster, but may be a co-author on multiple talks and/or posters. Please note that both the membership rule and the one-talk/ one-poster rule will be enforced.
AWARDS
The Best Student Poster Award is given for the best poster presentation whose first author is a student member of SJDM. The Hillel Einhorn New Investigator Award is intended to encourage outstanding work by new researchers. Applications are due June 17, 2013. Further details are available here. Questions can be directed to the chair of the Hillel Einhorn New Investigator Committee, Tim Pleskac, pleskact@msu.edu. The Jane Beattie Memorial Fund subsidizes travel to North America for a foreign scholar in pursuits related to judgment and decision research, including attendance at the annual SJDM meeting. Further details will be available at http://www.sjdm.org.
PROGRAM COMMITTEE
Robyn LeBoeuf (Chair), Bernd Figner, Jack Soll, Katy Milkman, Ellie Kyung, Anuj Shah, Katherine Burson, Ana Franco-Watkins, and Mare Appleby (conference coordinator)
2) 2013 CALL FOR PAPERS: WORKSHOP ON CROWDSOURCING AND ONLINE BEHAVIORAL EXPERIMENTS (COBE)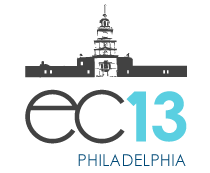 A workshop at the 14th ACM Conference on Electronic Commerce, Philadelphia, June 17, 2013.
Submission Deadline: April 26, 2013
Official Web Page: http://www.decisionresearchlab.com/cobe/
OVERVIEW
The World Wide Web has resulted in new and unanticipated avenues for conducting large-scale behavioral experiments. Crowdsourcing sites like Amazon Mechanical Turk, oDesk, and Taskcn, among others, have given researchers access to a large participant pool that operates around the clock. As a result, behavioral researchers in academia have turned to crowdsourcing sites in large numbers. Moreover, websites like eBay, Yelp and Reddit have become places where researchers can conduct field experiments. Companies like Microsoft, Facebook, Google and Yahoo! conduct hundreds of randomized experiments on a daily basis. We may be rapidly reaching a point where most behavioral experiments will be done online.
This workshop seeks to bring together researchers and academics to present their latest online behavioral experiments.
TOPICS OF INTEREST:
Topics of interest for the workshop include but are not limited to:
* Crowdsourcing
* Online behavioral experiments
* Online field experiments
* Online natural or quasi-experiments
* Online surveys
* Human Computation
PAPER SUBMISSION:
Submit papers electronically by visiting https://www.easychair.org/conferences/?conf=cobe2013, logging in or creating an account, and clicking New Submission at the top left.
Submissions are non-archival, meaning contributors are free to publish their results subsequently in archival journals or conferences. There will be no published proceedings. Submissions should be up to 6 pages including references. Accepted papers will be presented as talks.
Deadline for submissions: April 26, 2013
Notification of acceptance: May 15, 2013
ORGANIZATION:
* Siddharth Suri, Microsoft Research
* Winter A. Mason, Stevens Institute of Technology
* Daniel G Goldstein, Microsoft Research