Main
Filed in
Encyclopedia
,
Ideas
Subscribe
to Decision Science News by Email (one email per week, easy unsubscribe)
ADJUSTMENT TO REDUCE VARIANCE IN THE TIME OF SUNRISE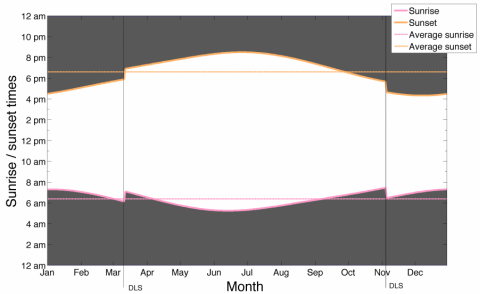 How did they decide when and by how much to make the "daylight savings time" adjustment? There's a nice visualization at http://visual.ly/daylight-saving-time-explained which suggests that daylight savings time was chosen in a way to keep the time of sunrise relatively constant throughout the year. Check out the chart above: the time of sunrise deviates from the "average sunrise" time less than the time of sunset deviates from the "average sunset" time. Compelling.
The creator of the visualization, who seems to go by the handle germanium, writes
I wanted to see the effect of daylight saving time change on sunrise and sunset times. The data was taken from http://www.timeanddate.com and is for Chicago. The figure shows that daylight saving time change (marked by the DLS lines) keeps the sunrise time pretty much constant throughout the whole year, while making the sunset time change a lot. The spread of sunrise times for the whole year as measured by the standard deviation is 42 minutes, while for sunset times is 1:30 hours.