Main
Filed in
Gossip
,
Ideas
Subscribe
to Decision Science News by Email (one email per week, easy unsubscribe)
FAST POLLING AND CELEBRITY WRANGLERS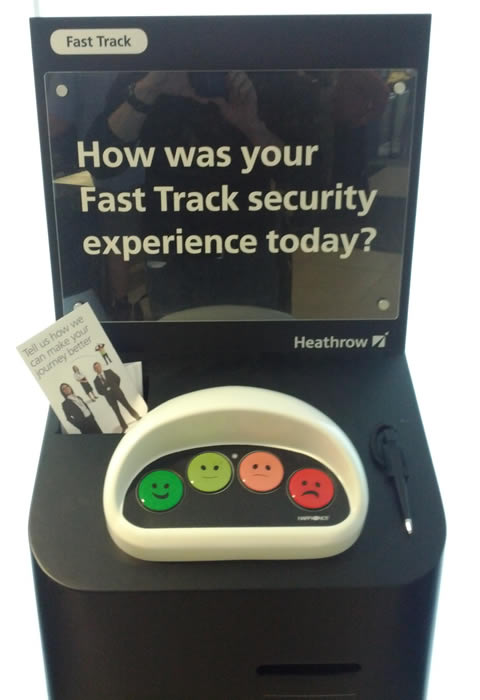 We recently connected through London's Heathrow Airport, and learned a couple things.
1. Fast, easy customer satisfaction surveys are possible. As you finish the security check at this airport, you walk past these machines (above) that ask you to rate how your experience by simply pushing one button. The machines are placed right in the middle of your path, not off to the side, so you can vote as you walk by without stopping. If you want to fill in a comment card, they had those and pens, too. We really like the idea of getting lots of data in a way that doesn't slow people down or compromise anonymity. They could use the responses to figure out when the experience is the worst and take measures to fix it. The only negative here is that we think these machines are only at the "fast track" lanes (for frequent fliers), making it a bit classist.
2. On the inter-terminal bus, we eavesdropped on two uniformed celebrity wranglers, whose job it is to look after VIPs as they pass through Heathrow. Apparently, VIPs (actors, pop stars, politicians, etc.) get escorted from place to place, are popped into their first class seats just before take off, and get to hang out in some private lounge before flights. As you might imagine, wranglers talk about which celebrities are naughty or nice. Allegedly, Smokey Robinson is "sooooo nice" while will.i.am was a "stuck-up little ____".