Main
Filed in
Articles
,
Ideas
,
Research News
,
Tools
Subscribe
to Decision Science News by Email (one email per week, easy unsubscribe)
A LONGER-TERM STUDY OF WHAT HAPPENS WHEN COMMITMENT CONTRACTS EXPIRE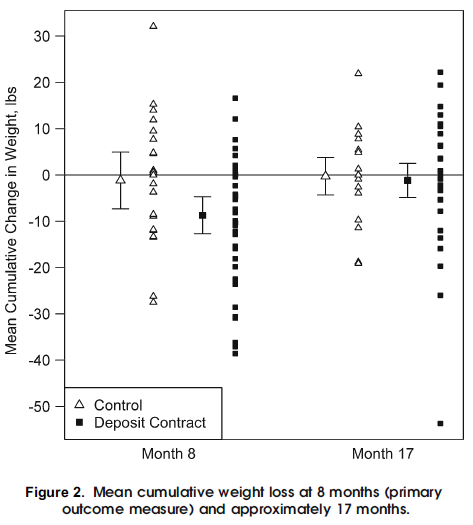 A popular kind of commitment device is betting that you'll lose weight.
At Decision Science News, we love the commitment devices. But, as we've have spoken about, we have mixed feelings about them, including the nagging concern that commitment devices may not lead to deep-seated changes or habit formation.
When the commitment device is gone, do the good habits remain?
This week, we got some empirical evidence on that question. We were down at Penn, attending the Annual Symposium put on by the Penn CMU Roybal P30 Center in Behavioral Economics and Health, and Leslie John and colleagues presented a longer-run study spanning an eight month period during which a commitment contract was in place, and a follow-up period of 9 months. As the figure above shows, at Month 8 the devices worked: People lost about 10 pounds
But what happened when the commitment devices expired? When all bets were off, all the weight was regained (Month 17 in the figure above).
This is the first study we know of that looks at the longer-term consequences of commitment contracts. It's hard to generalize from one study, but we think it shows that if you want a commitment device to work, you simply can't let it drop. You have to keep renewing. So, if commitment devices are going to help folks, we need to find ways to get people to renew them. Or seek deep-seated changes so that people will do the right thing even when the device is absent.
REFERENCE
Leslie K. John, George Loewenstein, Andrea B. Troxel, Laurie Norton, Jennifer E. Fassbender, and Kevin G. Volpp. (2011). Financial Incentives for Extended Weight Loss: A Randomized, Controlled Trial. Journal of General Internal Medicine. DOI: 10.1007/s11606-010-1628-y
ADDENDUM
Reader Alex V writes in with another experiment of this type, and one that does find longer run effects (at 12 months). We wonder if it is easier to stay off cigarettes than to stay off food. That is, quitting smoking is *very* hard, but once one has crossed over, perhaps it is easier not to relapse.
Put Your Money Where Your Butt Is: A Commitment Contract for Smoking Cessation
American Economic Journal: Applied Economics, 2(4): 213-35, October 2010, with Xavier Gine and Dean Karlan.

This paper tested a voluntary commitment product (CARES) for smoking cessation, where smokers were offered a savings account in which they deposit funds for 6 months, after which they take urine tests for nicotine and cotinine. If they pass, the money is returned; otherwise it is forfeited. 11% of smokers offered CARES take it up, and smokers randomly offered CARES were 3% more likely to pass a 6-month test than the control group.

The effect persists in surprise tests at 12-months. So this is just one more paper that looks at the longer-term effects of commitment contracts! (albeit not that far into the future).