Main
Filed in
Gossip
,
Jobs
,
Research News
Subscribe
to Decision Science News by Email (one email per week, easy unsubscribe)
FOUNDING MEMBERS OF MICROSOFT RESEARCH'S NEW YORK CITY LAB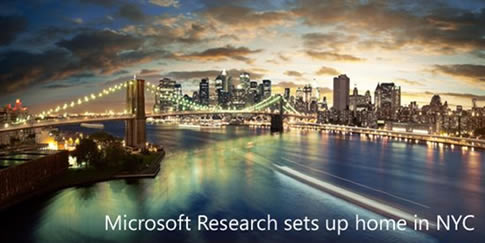 As reported in the New York Times (Microsoft Taps Yahoo Scientists for New York Research Lab) and elsewhere, we're moving to Microsoft. Your Decision Science News editor will be one of the founding members of a brand new Microsoft Research Lab in New York City.
The founding members, so far, are:
Sharad Goel web twitter
Dan Goldstein web twitter
Jake Hofman web twitter
John Langford web
Dave Pennock web twitter
Dave Rothschild web twitter
Sid Suri web twitter
Duncan Watts web twitter
Managing Directors of the lab are:
Jennifer Chayes
Christian Borgs
SELECTED REFERENCES:
NEW YORK TIMES
Microsoft Taps Yahoo Scientists for New York Research Lab
PC MAGAZINE
Microsoft Opens New York Research Lab With Former Yahoo Scientists
COMPUTERWORLD
Microsoft opens New York research lab, hires mainly Yahoo researchers
CNET
Microsoft snags Yahoo scientists for new research lab
ALL THINGS D
Microsoft Hires 14 Yahoo Researchers to Kick-Start New NYC Research Lab
MIT TECHNOLOGY REVIEW
Microsoft's New Lab Hunts for Value in User Data
PRESS RELEASES
Start Spreading the News … Announcing Microsoft Research New York City!
Microsoft Research Debuts N.Y.C. Lab
Microsoft Research sets up home in NYC
MANY MORE REFERENCES:
Search Microsoft "New York"