Main
Filed in
Articles
,
Gossip
,
Ideas
,
Research News
Subscribe
to Decision Science News by Email (one email per week, easy unsubscribe)
INGREDIENTS OF THE DECISION-FREE DIET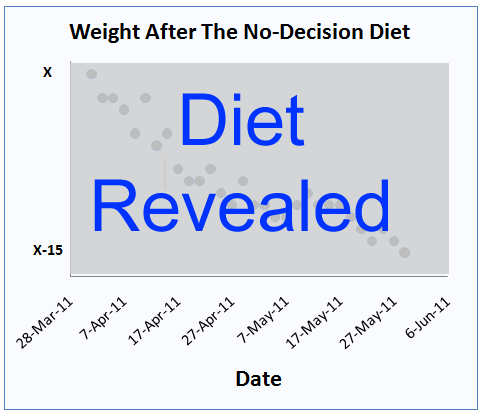 Last week, Decision Science News posted about a "no-decision diet" in which its editor followed, for one week and without exceptions, a healthy diet designed by someone else. Since then, a number of people have written in asking to have a look at the diet. If you were hoping to find out what the diet included, today is your lucky day.
We note that this diet was not customized for you, it was customized for the Decision Science News Editor. We also reinforce that we are not nutritionists, so consider this document as merely curiosity-appeasing information, not a recommendation.
The No-Decision Diet (XSLX format. Note that the spreadsheet has 3 tabs "Menu", "Recipes" and "Grocery List")
Also coming in over the wire this week was this poster on how people think complex diets are more effective than simple diets, while this may not be the case: Costs and Benefits of Simplifying Diet and Exercise Rule Complexity.
See also: Mata, J., Todd, P. M., & Lippke, S. (2010). When weight management lasts: Lower rule complexity increases adherence. Appetite, 54,. 37-43