Main
Filed in
Conferences
,
SJDM
Subscribe
to Decision Science News by Email (one email per week, easy unsubscribe)
ASSOCIATION FOR CONSUMER RESEARCH CONFERENCE, OCT 7-10, 2010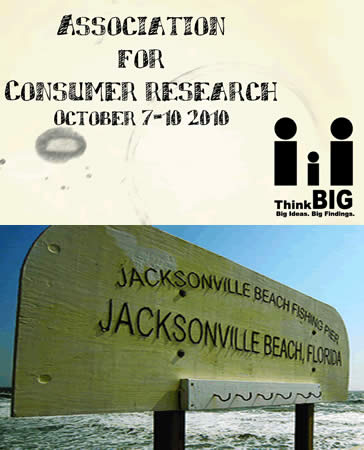 What: The Association for Consumer Research Annual North American Conference [Website]
Where: Jacksonville, FL
Hotel: The Hyatt Regency [Map] [Booking]
When: OCT 7-10, 2010
Registration: Available now online
Early-bird deadline: Sept 1. Second price hike at Sept 25th.
ACR 2010 Jacksonville is open for registration!
Decision Science News notices that this year, the conference uses "green defaults". Innovative! Check it out:
You will have the option to opt out of the complete program given at the conference. You can build your own program on the ACR website by going to www.acrweb.org/acr and signing in. Once there, choose the "program" option, and you will see the new tool which you can utilize. Print your customized program and bring it with you!
The default meal is vegetarian. You will have the option to opt out of the vegetarian meal.
Build-your-own-program is neat. We usually look at about half of the program, and end up needing about 20% of it at the conference. They have some other nudges as well:
You will have the option of buying carbon offsets for your flight.
You can choose the electronic version of the proceedings instead of a hardcover copy and receive a $20 discount.
The discount for the e-proceedings seems like a classic incentive. Decision Science News just registered and found that they used no default (forced choice) for this question. They could have made the default the green one and said "hardcover available for an extra $20". In any case, we are glad to see research put to use.