Main
Filed in
Gossip
,
Ideas
,
Tools
Subscribe
to Decision Science News by Email (one email per week, easy unsubscribe)
SMARTPHONE UPLOADED PHOTOS AND VIDEOS REVEAL YOUR LOCATION BY DEFAULT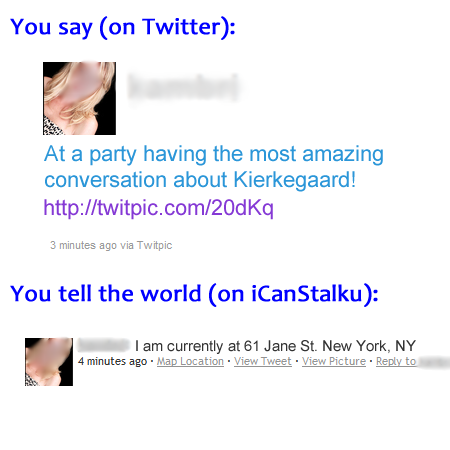 It wouldn't be 2010 if people didn't love going out, taking pictures with their iPhones and Blackberries and posting them online. It is not only a great way let your friends know what you are up to, it is a great way to unknowingly reveal your location and even home address to complete strangers.
Here's how it goes down:
You take a picture or video on your iPhone, Blackberry, or smart phone
You phone adds your latitude and longitude to the photo by default (through its built in GPS)
You upload the photo to the Web
You add useful tags to the photo, saying it it is your home, etc
Anyone who sees the photo can extract the latitude and longitude information from the photo
You've got a stalker
Annoyingly, the addition of geographic information to your photos is usually tough to switch off without completely switching off the otherwise useful GPS on your phone. It's a case of dumb defaults where smart defaults are in order.
ICanStalkU.com, which went live in May, is designed to raise awareness of the privacy risks of geo-tagged images. The software behind the site looks for location data in images shared on Twitter. It then runs that data through Geonames, an online service that finds place names associated with latitude and longitude coordinates. The result is a stream of messages that identify the current location of Twitter users.

By tracking images posted on Twitter by a single user it is also possible to plot that user's movements on a map, say Ben Jackson and Larry Pesce, security consultants based in Boston and Providence, Rhode Island, respectively, and the creators of the site. Jackson says he will unveil this mapping tool next week at the Hackers on Planet Earth conference in New York.
That slightly paranoid feeling one gets when posting content to the Web is now justified. It's a bit of victory for the intuitive decision maker in all of us that resisting sharing private information when social networks were new, but has since been ignored.
References
A better way to set defaults: Nudge Your Customers Toward Better Choices
Other Decision Science News posts on defaults.
ADDENDUM:
One bit of relief is that Facebook strips EXIF data from photos that get uploaded.
Tweet and location data faked. Maximum likelihood location of such a tweet is estimated to be 41.789841,-87.588823