Main
Filed in
Research News
Subscribe
to Decision Science News by Email (one email per week, easy unsubscribe)
PICK NCAA WINNERS WITH THE LARGEST COMBINATORIAL PREDICTION MARKET EVER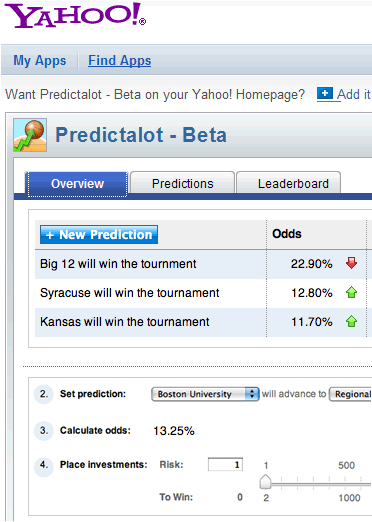 Tracking 9.2 quintillion outcomes, Predictalot offers something for everyone.
Dave Pennock sits behind the Decision Science News editor at Yahoo! Research (a kind of academic department sitting inside a company). Much more importantly, he has lead a team that has built what is probably the largest prediction market in history. The market is called Predictalot and its first mission is a fun one: the predict NCAA basketball winners.
The team is: Mani Abrol, Janet George, Tom Gulik, Mridul Muralidharan, Sudar Muthu, Navneet Nair, Abe Othman, Daniel Reeves, Pras Sarkar.
What's special about Predictalot is that it lets you bet on just about anything that you like, and all the bets are interconnected (which helps it make better predictions of what will happen). Says Dave
Because we track all possible outcomes, the predictions are automatically interconnected in ways you would expect. A large play on Duke to win the tournament instantly and automatically increases the odds of Duke winning in the first round; after all, Duke can't win the whole thing without getting past the first round.
A combinatorial market maker fulfills an almost magical promise: propose any obscure proposition, click 'accept', and your bet is placed: no doubt and no waiting.
You can play Predictalot by clicking to play directly, or by adding it to your Yahoo home page.
Predictalot is a combinatorial prediction market and it's been generating a lot of media interest, for example: