Main
Filed in
Conferences
,
Programs
,
SJDM
Subscribe
to Decision Science News by Email (one email per week, easy unsubscribe)
MAX PLANCK SUMMER INSTITUTE ON BOUNDED RATIONALITY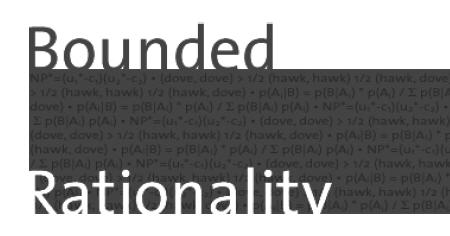 This week, Decision Science News brings you a summer school and a few spring workshops. The summer school is the one at the Max Planck Institute in Berlin, brought to you by Gerd Gigerenzer and Nobel laureate Smith and will feature a lecture by Ariel Rubenstein. Now, those are three people who know a thing or two about bounded rationality!
Foundations for an Interdisciplinary Decision Theory
05 – 12 July, 2010
Berlin, Germany
Directed by: Gerd Gigerenzer & Vernon Smith
Evening Lecture: Ariel Rubinstein
Location: Center for Adaptive Behavior and Cognition
Max Planck Institute for Human Development, Berlin, Germany
Deadline to apply: March 20th, 2010
It is our pleasure to announce the Summer Institute on Bounded Rationality 2010 – Foundations of an Interdisciplinary Decision Theory, which will take place from July 5th to 12th, 2010 at the Max Planck Institute for Human Development in Berlin. The objective of the Summer Institute is to provide a platform for interdisciplinary research, bringing together young scholars from psychology, economics, biology, philosophy, and neuroscience. It wants to push for a common understanding of the way Homo Sapiens forms decisions, challenging the reigning assumptions in the individual disciplines. This year, the evening lecture will be given by Ariel Rubinstein.
Talented graduate students and postdoctoral fellows from around the world are invited to apply by March 20th, 2010. We will provide all participants with accommodation and stipends to cover part of their travel expenses. Details on the Summer Institute and the application process are available at http://www.mpib-berlin.mpg.de/SummerInstitute .
Please pass on this information to potential candidates from your own department or institute.
– – – – – – – – – – – – – – – – – – – –
INTERNATIONAL WORKSHOP ON CLINICAL REASONING
When: Saturday 17 April to Sunday 18 April 2010
Where: London, UK
Keynote speakers: Professor Valerie Reyna (Cornell University) and Professor Willem Kuyken (University of Exeter)
Sponsor: European Association for Decision Making (EADM)
Website: http://www.kcl.ac.uk/schools/medicine/research/hscr/seminars/iwcr/
The 5th International Workshop on Clinical Reasoning provides a forum for researchers who investigate the mental processes of clinicians making diagnostic and treatment decisions.
We welcome contributions that present empirical evidence, theoretical accounts as well as planned research. These are examples of topics that would be of interest: research into various modes of clinical reasoning (e.g. intuitive, analytical, heuristic, causal), the circumstances when the different modes may not be appropriate and lead to error, the types of knowledge involved, how the features of the task may influence reasoning, individual differences in reasoning, strategies for improving reasoning, methodologies for the study of clinical reasoning.
For the first time, the workshop will aim to bring together researchers of medical diagnostic reasoning and of psychodiagnostic reasoning ('case formulation'), and thus provide the opportunity for cross-fertilisation between two domains that do not often interact.
Scientific Committee
York Hagmayer, University of Göttingen
Olga Kostopoulou, King's College London
Cilia Witteman, Radboud University Nijmegen
– – – – – – – – – – – – – – – – – – – –
ASSISTING DECISION MAKERS: A WORKSHOP MEETING
When people find it difficult to make decisions, they may benefit from assistance given to them by other people. Those providing assistance may be experts in a particular domain (e.g., medicine, law, finance) or in the way that decisions should be made (decision support). There are four types of help that people may receive. First, they may be given information in some form that makes it easy for them to use. For example, this information may relate to risks associated with different choices. Second, they may receive advice from other people about an appropriate course of action or about some uncertain quantity, such as the risks or expected returns associated with different courses of action. Third, they may share their decision making process with the person assisting them. Fourth, they may have their decision made for them.
This workshop will focus on these approaches to assisting decision makers and on factors relevant to choosing which should be used in different situations. It is supported by the UK Economic and Social Research Council and it will be held at University College London on 15 and 16 April. Invited speakers include J Frank Yates (Michigan), Ilan Yaniv (Jerusalem), and Eric Stone (Wake Forest).
If you wish to present a poster of relevant work at the meeting, please send its title and a 150-word abstract to Matt Twyman (m.twyman@ucl.ac.uk) before 5pm on March 12th 2010. There may also be a few slots available for spoken presentations. Please let Matt know if you would be interested in filling one.
Attendance at the meeting incurs no cost but you need to register by sending an email to Matt Twyman (m.twyman@ucl.ac.uk) by 12 March 2010. He will confirm your registration and provide you with further details.
– – – – – – – – – – – – – – – – – – – –
We invite submissions to the following forthcoming conference:
Behavioural Finance Working Group Conference:
Topic: Fairness, Trust and Emotions in Finance.
Date: 1-2 July 2010
Venue: Behavioural Finance Working Group, Cass Business School, London, UK
Keynote Speaker: Robert Olsen, Institute of Behavioral Finance
Organisers: Richard Fairchild (School of Management, University of
Bath), Gulnur Muradoglu (Cass Business School) and Daniel Zizzo
(University of East Anglia).
Special Issue: Presenters have the option to have their papers
considered for a special issue of the International Journal of
Behavioural Accounting and Finance.
The deadline for submissions is May 21st 2010
The detailed Call for Papers is as follows:
Overview: Traditionally, financial economists have based their analysis
of financial contracting on the assumption that agents are fully
rational, emotionless, self-interested maximizers of expected utility
(the homo economicus assumption). Behavioural economists are
increasingly recognizing that financial decision makers may be subject
to psychological biases, and the effects of emotions (the homo sapiens
view). An interesting area of research examines the implications of
assuming that agents are not completely self-interested, but that they
also consider the impact of their actions on the payoffs of others. In
this meeting, we will consider the effects of fairness, trust, empathy,
fellow-feeling, and emotional reactions on financial contracting,
incentives and performance.
We seek contributions from areas which include while not being limited
to the following issues:
-decision-making at the corporate level (for example, the effect of
emotions, trust, and empathy on the FDI decision and on capital
budgeting),
-decision making at the start-up level (the effect of fairness, trust
and empathy on venture capitalist/entrepreneurial financial
contracting, incentives and performance),
-decision making at the investor level (investors' trust in corporate
managers).
We invite you to submit extended abstracts, papers-in-progress or full
papers by the deadline of May 21st 2010.
The organisers will come back with a decision within three weeks after
this deadline.To submit a paper for consideration please email a PDF
version of the paper to [1]Behavioural-Finance@city.ac.uk
Papers chosen for submission will, at the author's request, be
considered for publication for a Special Issue of the International
Journal of Behavioural Accounting and Finance
Kind regards,
Gulnur Muradoglu
Cass Business School