Main
Filed in
Encyclopedia
,
Gossip
,
Programs
Subscribe
to Decision Science News by Email (one email per week, easy unsubscribe)
MISPLACED SYMPATHY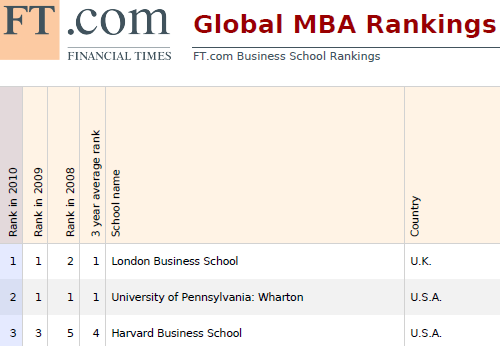 Decision Science News knows that when faculty from London Business School travel abroad, they are frequently asked "how are things at the London School of Economics?" When the London Business School faculty members say politely that they are at LBS and not LSE, the askers suddenly look sympathetic, as if they'd inquired about a recently deceased pet.
It can be seen as a sensible reaction. The asker has heard of the London School of Economics, had a "false alarm" in thinking they recognized London Business School, and upon realizing that they have not heard of LBS, made the speedy inference it must not be very good. Perhaps this occurs through a variant of the recognition heuristic.
Decision Science News would like to point out that there is no need to feel sorry for London Business School faculty, who generally prefer being at a school of business over a school of economics, and further delight in the knowledge that London Business School was just rated the best MBA Programme in the world by the Financial Times.
Don't believe their ranking? Well, one could consider the UK Government's Research Assessment Exercise (RAE), according to which London Business School is the highest-scoring university in the UK for business, meaning it is higher ranked in business than Cambridge, Oxford, and yes, the London School of Economics with which it is so often confused.
Still unconvinced? Take a perspective from the USA, whose Forbes Magazine ranks LBS as the best MBA program outside the USA.
Need more data? See how the Economist credits LBS's recent success: "What appears to be happening is that, as the job market for MBAs remains tough, more students are turning to schools with a worldwide reputation".
So don't cry for London Business School faculty, rest of world, congratulate them!
photo credit: http://www.forbes.com/