Main
Filed in
Conferences
,
Ideas
,
Tools
Subscribe
to Decision Science News by Email (one email per week, easy unsubscribe)
PROBABILISTIC INFORMATION ON WHETHER YOUR FLIGHT WILL BE LATE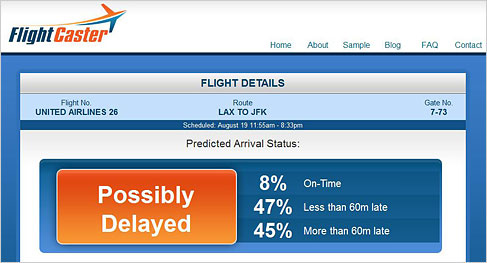 DSN reader Yael sends along this NY Times InTransit piece on Flight Caster, a web site that uses historical data to generate probabilities that flights will be late. DSN likes the following things:
The idea of FlightCaster
The idea of ubiquitous probabilistic information in the age of the networked database and smartphone
The idea that accurate probabilistic information in the environment will encourage the public to embrace and understand  probabilities
We thought Flight Caster would be useful this week, as Decision Science News is travelling to the SPUDM: Subjective Probability, Utility, and Decision Making Conference in Italy, but unfortunately Flight Caster does not do flights outside the US.
However, it does remind the DSN Editor of the time in the 1990s when, just before a trip to Milan, he asked an Italian colleague what percentage of Alitalia flights were late. "What percentage?" The colleague blinked and leaned forward to make sure he didn't misunderstand. "Hundred!" he laughed, looking like he'd just been asked to add ninety-nine and one.