Main
Filed in
Conferences
,
Encyclopedia
,
Profiles
,
Research News
,
SJDM-Conferences
Subscribe
to Decision Science News by Email (one email per week, easy unsubscribe)
DEFAULTS IN BRUSSELS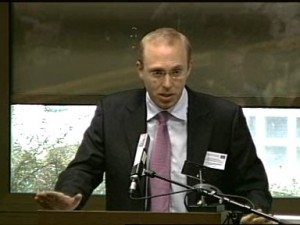 Last week, Decision Science News spoke at a European Commission conference on "How Can Behavioural Economics Improve Policies Affecting Consumers?", which was terrifying, as it meant addressing a large room of people with name cards and microphones and simultaneous translators behind glass walls.
The DSN editor tried to emphasize how one must consider the cause of default effects when setting policies that govern which defaults should be prohibited, as discussed in a recent HBR article (Goldstein, Daniel G., Eric J. Johnson, Andreas Herrmann, and Mark Heitmann (2008).
Nudge Your Customers Toward Better Choices. Harvard Business Review, 86(12), 99-105.).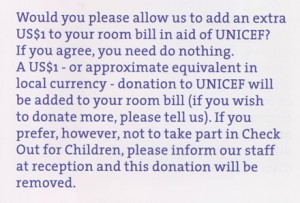 As he was checking into the Sheraton Brussels Airport Hotel, he received a brochure with his key card, stating that unless one opted out, a donation to UNICEF would be added to  the hotel bill.
Would you please allow us to add an extra US $1 to your room bill in aid of UNICEF? If you agree, you need do nothing. A US $1 – or approximate equivalent in local currency – donation to UNICEF will be added to your room bill (if you wish to donate more, please tell us). If you prefer, however, not to take part in Check Out for Children, please inform our staff at reception and this donation will be removed
Since most people would probably not choose to make a charitable donation if asked, and since it inconveniences (and probably shames) people to stop by the reception to opt out, Decision Science News wonders if this is pushing things a bit too far. On the other hand, the program has raised $20 million so far …