Main
Filed in
Conferences
,
Profiles
,
Research News
,
SJDM
Subscribe
to Decision Science News by Email (one email per week, easy unsubscribe)
GERD GIGERENZER ON IGNORING INFORMATION FOR BETTER DECISIONS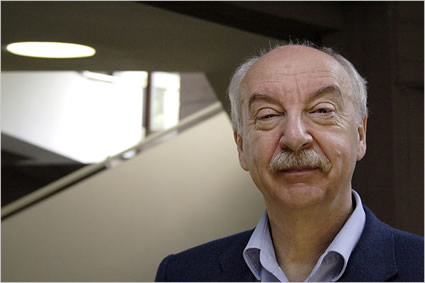 Who: Gerd Gigerenzer, Director, Max Planck Institute, Berlin
What: The Rationality of Heuristics: Ignoring Information for Better Decisions
Where: Westminster Business School, Hogg Lecture Theatre
When: 17h15-19h
The academic year in London will get off to a stimulating start as one of Psychology's leading intellectuals, Gerd Gigerenzer, will take the stage on Tuesday September 23rd, 2008 to kick off the Economics of Behavior and Decision Making seminar in London.
Gigerenzer is Director of the Center for Adaptive Behavior and Cognition at the Max Planck Institute for Human Development in Berlin and former Professor of Psychology at the University of Chicago. He won the AAAS Prize for the best article in the behavioral sciences. His book Gut Feelings: The Intelligence of the Unconscious
was one of six nominees for the 2008 Royal Society Prizes for Science Books. He is the author of Calculated Risks: How to Know When Numbers Deceive You
, the German translation of which won the Scientific Book of the Year Prize in 2002. He has published several other academic books on heuristics including, Simple Heuristics That Make Us Smart
(with Peter Todd & The ABC Research Group) and Bounded Rationality: The Adaptive Toolbox
(with Reinhard Selten, a Nobel laureate in economics), Heuristics and the Law (Dahlem Workshop Reports)
(with Christoph Engel), Rationality for Mortals: How People Cope with Uncertainty (Evolution and Cognition)
, and Adaptive Thinking: Rationality in the Real World (Evolution and Cognition Series)
.
ABOUT GIGERENZER:
Gerd Gigerenzer's CV
Through Analysis, Gut Reaction Gains Credibility, The New York Times.
Smart Heuristics: Gerd Gigerenzer at Edge.org
Gigerenzer's Books
NEW FACULTY OR GRAD STUDENT IN LONDON? JOIN THE EBDM SEMINAR EMAIL LIST:
To subscribe to the seminar series email list, please visit http://tinyurl.com/yvw2sr to opt in. You can easily unsubscribe anytime. Please pass this message on to those who may be interested in joining the email list.
The full schedule of talks at the Economics of Behaviour and Decision Making seminar series is maintained at http://www.decisionresearchlab.com/ebdm/