Main
Filed in
Research News
Subscribe
to Decision Science News by Email (one email per week, easy unsubscribe)
TEST YOUR SOCCER PREDICTION SKILLS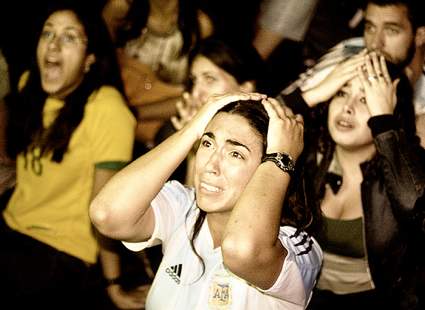 Stefan Herzog over in Basel lets us know about a short online study (15 – 20 minutes) on how people predict outcomes in the context of football (soccer). Anybody can participate; this study is explicitly not just for people who are interested or an expert in football.
You can optionally request (a) feedback on your prediction strategy and (b) additional information about this study (once it is completed).
This study is non-commercially oriented, that is, its data is solely used for scientific purposes and is treated confidentially.
Please visit: http://phpserver.psycho.unibas.ch/em2008/
Thank you very much for participating!
Photo credit: http://www.flickr.com/photos/76579169@N00/178821720/
UPDATE
In a bold move, the authors have decided to publish their predictions here on Decision Science News so that nobody can accuse them of changing their model after the matches begin. For further evidence, the results have been archived at The Internet Archive. Here they are:

game group team1 team2 rec1 rec2 recrank1 recrank2 rec_prediction
1 A SUI CZE 0.25 0.26 9 8 CZE
2 A POR TUR 0.41 0.15 3 13 POR
3 B AUT CRO 0.15 0.24 12 10 CRO
4 B GER POL 0.49 0.14 1 14 GER
5 C ROU FRA 0.12 0.4 15 4 FRA
6 C NED ITA 0.35 0.43 5 2 ITA
7 D ESP RUS 0.35 0.12 6 16 ESP
8 D GRE SWE 0.17 0.31 11 7 SWE
9 A CZE POR 0.26 0.41 8 3 POR
10 A SUI TUR 0.25 0.15 9 13 SUI
11 B CRO GER 0.24 0.49 10 1 GER
12 B AUT POL 0.15 0.14 12 14 AUT
13 C ITA ROU 0.43 0.12 2 15 ITA
14 C NED FRA 0.35 0.4 5 4 FRA
15 D SWE ESP 0.31 0.35 7 6 ESP
16 D GRE RUS 0.17 0.12 11 16 GRE
17 A SUI POR 0.25 0.41 9 3 POR
18 A TUR CZE 0.15 0.26 13 8 CZE
19 B POL CRO 0.14 0.24 14 10 CRO
20 B AUT GER 0.15 0.49 12 1 GER
21 C NED ROU 0.35 0.12 5 15 NED
22 C FRA ITA 0.4 0.43 4 2 ITA
23 D GRE ESP 0.17 0.35 11 6 ESP
24 D RUS SWE 0.12 0.31 16 7 SWE
country group rec recrank
GER B 0.492 1
ITA C 0.432 2
POR A 0.409 3
FRA C 0.4 4
NED C 0.354 5
ESP D 0.347 6
SWE D 0.307 7
CZE A 0.26 8
SUI A 0.246 9
CRO B 0.24 10
GRE D 0.167 11
AUT B 0.153 12
TUR A 0.146 13
POL B 0.135 14
ROU C 0.125 15
RUS D 0.116 16