Main
Filed in
Conferences
,
SJDM
,
SJDM-Conferences
Subscribe
to Decision Science News by Email (one email per week, easy unsubscribe)
SMDM 2008, OCTOBER 19-22, 2008, PHILADELPHIA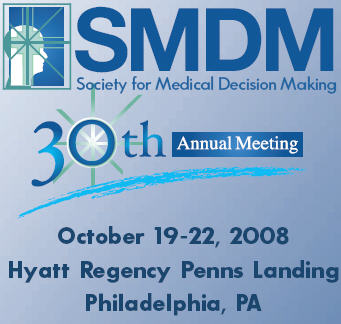 We are pleased to invite you to submit an abstract to the 30th Annual Meeting of the Society for Medical Decision Making, being held in Philadelphia this October. The meeting theme is "Comparative Effectiveness Research."
Authors of accepted abstracts will be invited to present their work at the SMDM 30th Annual Meeting, October 19 – 22, 2008 in Philadelphia, PA. Accepted abstracts will be published online in Medical Decision Making, SMDM's peer-reviewed scientific journal.
The deadline for abstract submissions is Friday, June 6, 2008 at 11:59 p.m. EDT. For more information about abstracts or to submit an abstract, go to abstracts. To learn more about the SMDM 30th Annual Meeting, go to meeting. To make hotel reservations for the meeting, go to reservations.
Meeting Co-Chairs:
Sandy Schwartz, MD and Seema Sonnad, PhD
Scientific Review Committee Co-Chairs:
Heather Taffet Gold, PhD, and Lisa Prosser, PhD