Main
Filed in
Jobs
,
SJDM
Subscribe
to Decision Science News by Email (one email per week, easy unsubscribe)
JOBS IN THE UK AT DECTECH AND OXFORD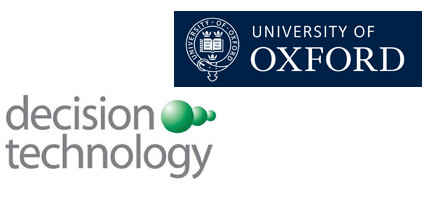 DECISION TECHNOLOGY
Decision Technology is a commercial decision research spin-out, based in central London, co-founded by Nick Chater and Henry Stott. We work internationally, mainly advising large corporations on consumer decision making. We are currently hiring several analysts, ideally with a mix of very strong academic background and ability, combined with enthusiasm for working in a fast-paced commercial environment, with potentially rapid career development.
http://www.jobs.ac.uk/jobs/LS576/PhD_and_Graduate_Recruiting/
We also have one post dedicated to research on football (soccer) prediction, in collaboration with The Times newspaper.
http://www.jobs.ac.uk/jobs/LS575/Football_Research_Position/
If you are interested, please contact Dr Ian Graham i.graham at dectech.org
NUFFIELD COLLEGE – UNIVERSITY OF OXFORD
Five-Year Research Fellowship in Experimental Social Sciences Nuffield College intends to appoint, with effect from 1st September 2008, a Research Fellow in Experimental Social Science (RFESS).
Applications are invited from post-doctoral researchers of any country wishing to undertake research in any area of experimental social sciences. The main interests of the College are in Economics, Politics and Sociology, but these are broadly construed to include, for example, social science approaches to history, social and medical statistics, international relations, social psychology, public policy, and social policy.
The College has recently begun an initiative in Experimental Social Science that includes a 20 station experimental lab that is dedicated to experimental research by scholars and students at Oxford University. It also includes a regular seminar on Experimental Social Science that highlights the research of leading experimental social scientists. The RFESS will be expected to play an active role in promoting the development of the Nuffield Centre for Experimental Social Science. The RFESS's main responsibility is to engage in independent scholarly research and to promote the development of experimental social science in the College. He or she will have no teaching or administrative obligations but will be expected to participate in the intellectual life of the College. This will include contributing to interdisciplinary exchanges that build on Experimental Social Science. The RFESS will be expected to organize, periodically, seminars or workshops in the area of experimental social science over the course of the five-year term of their appointment and the College can help finance and organize these activities.
• Research Fellow salary scale points 12-19: £31,625-£41,348.
• Free lunch and dinner in College (Common Table)
• Membership of the Senior Common Room
The Fellowship is intended for scholars from any country, who have completed a doctoral thesis and who are in the early years of an active research career. The Fellowship is equivalent to an Assistant Professorship in terms of academic standing, but it carries no teaching obligations. The Fellowship would normally be taken up on 1st September 2008. The appointment will be for up to 5 years.
Further particulars and an application form can be obtained from the College web
page: http://www.nuffield.ox.ac.uk or from the Administrative Officer, Nuffield
College, Oxford OX1 1NF. Email: justine.crump at nuffield.ox.ac.uk. Applications must be received by Friday, 4 April 2008.