Main
Filed in
Conferences
,
SJDM
,
SJDM-Conferences
Subscribe
to Decision Science News by Email (one email per week, easy unsubscribe)
THE 2008 BEHAVIORAL DECISION RESEARCH IN MANAGEMENT CONFERENCE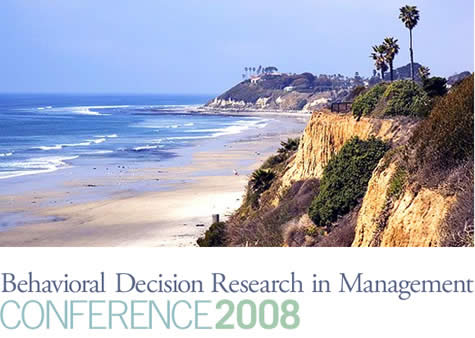 Decision Science News very much enjoyed the last two BDRMs. The 2008 BDRM conference promises to be very good as well, as it is sponsored by the meteorically rising UCSD Rady School of Businsess, and familiar JDM names are running the show: Dave Schkade, Craig McKenzie, Uri Gneezy, and Alan Schwartz.
Call for Papers
The Decision Research Faculty at UC San Diego's Rady School of Management invites submissions of papers, symposia, and posters for the 11th biennial conference on Behavioral Decision Research in Management. The conference will be held April 25-26, 2008, at the Rady School of Management's new building overlooking the Pacific Ocean in La Jolla, California.
We encourage submissions of original research in all areas of behavioral decision research, especially as it applies to management and related disciplines. This includes, but is not limited to, consumer behavior, organizational behavior, negotiation, managerial decision making, behavioral finance, experimental and behavioral economics, decision analysis, behavioral strategy, behavioral operations research, behavioral accounting, and medical and legal decision making.
Paper submissions require 400-word (max) abstracts for review and 100-word abstracts for the program. Poster submissions require 100-word abstracts. Abstracts should be submitted electronically.
The submission deadline is January 18, 2008, with final decisions by late February.